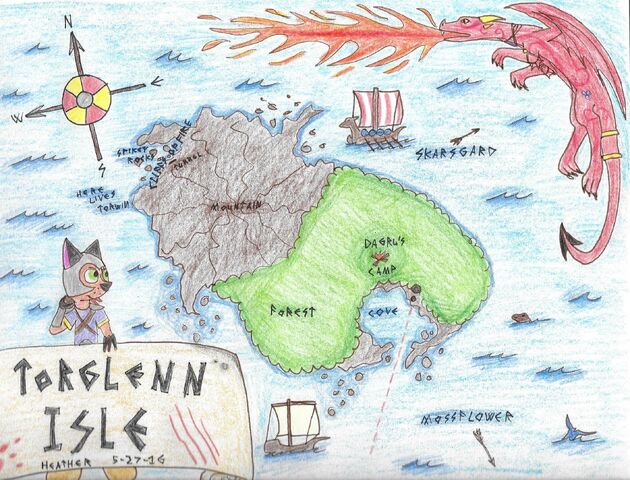 I don't know why I've never thought of doing this before. I mean, all the RW books have a map, so I figgered why not? ;D  I think it turned out severely cool!!! ^^ I love it!!! I love maps. :) I tried to give it sort of a cool old-map-ish affect by using Crayola pencils instead of Prismacolors, and the scanner helped too. ;) It's funny that as I was drawing this, mom was reading The Hobbit to us, and  you've prob'ly noticed by now that DoR has a bit of The Hobbit in it. XD That brown thingy in the ocean was s'posed to be a seal... XP I admit I luuved drawing Torwin up there, also this is the first time I've drawn him breathing fire. Spikes thought at first that Dagru was sticking his tongue out, but that's his hair. XD The red dashed line is the safe way to get in the cove. That one section was kinda tricky cause I had to squish the tunnel, cliffs, and rocks in, but I did it. You can read it, right? Hope so. ;P I've gotta do this for the rest of my books! :D
Appears on these pages

of
Dagru the Dastardly is a young fox in Defenders of Redwall, and the Chief of the Norsebeasts...

Torglenn Isle is an island up north in the Western Sea. It is wooded on the south end, with a...

Torwin is a dragon, and the main villain of Defenders of Redwall. Torwin is a large red dragon...
File history
Click on a date/time to view the file as it appeared at that time.
Metadata
Ad blocker interference detected!
Wikia is a free-to-use site that makes money from advertising. We have a modified experience for viewers using ad blockers

Wikia is not accessible if you've made further modifications. Remove the custom ad blocker rule(s) and the page will load as expected.